Julio C. Alfonzo and Yanitza Marquez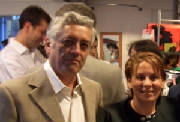 Directors
Mercedes Jahn
Director
Our Business Philosophy
We emphasize giving a high-quality servicing customers in a professional and efficient manner. We only partner with reputable suppliers, so we have confidence in the services we offer.


Who We Are
J.C. Alfonzo is a mathematician, Organizational Consultant and expert in software Design.
Y. Marquez is a Sociologist, expert in planning, corporate relations, communication and semiotics.
M. Jahn is a PhD in Psicology. Expert in Executive Coaching. President of IFC Chapter Mexico.
We have recently expanded to Latin America and Hispanic Business World, through our office based in Mexico.